4-H Youth Development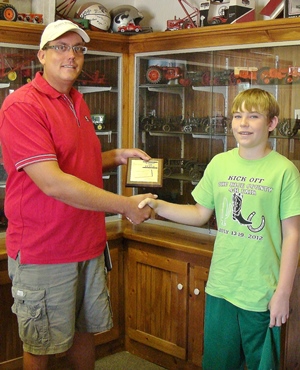 4-H is an opportunity for youth ages 7-19 to learn more about their community (Citizenship); be a positive role model and teach others (Leadership); and explore interest areas that will offer ongoing learning (Life Skills).
4-H Country Pals
Country Pals meet the 2nd Sunday of each month at the Congregational Church, 410 Clinton St., Little River at 4:00.
Community Leaders are Sheri Ellwood and Sally Dieball. For more information on becoming a member of the club contact Sally Dieball at 620-897-6624.
President of the Club Taylor Dieball, VP Hannah Herzog, Secretary Zane Kratzer, Treasurer Charlotte Hays, Reporter Maggie Hays, Parlimentarian Kami Grasser and Peyton Erickson, Council Reps. Ty Herzog and Braeden Grasser.
4-H Sterling Meadowlarks
Sterling Meadowlarks Meet
Community Leaders are Shawnna / Darren Beltz and Thomas/Elizabeth Madden.
President Mallory Beltz, VP Wyatt Beltz, Secretary Alaina Madden, Treasurer Bryson Brownlee, Reporters Macy Brownlee, Braylie Krone and Bella Brownlee, Parlimentarians Olivia Julich and Katie Conard, Council Reps. Garrett Sankey and Breanna Bingle.
4-H Valley Bluebirds
Valley Bluebirds meet the second Sunday of each month at the Extension Office, 701 E. Main, Lyons at 4:00.
Community Leaders are Frannie Miller and Justin Rowley.
President Connor Furrey, VP Emma Elliott, Secretary Anna Stansbury, Treasurer Courtney Stansbury, Parliamentarian Deacon Showalter, Reporter Tessa Miller, Historian William Miller, Song Leaders Greta Showalter and Sydney Reazin, Recreational Leaders Karson Peter and Kathleen Elliott, Council Reps Wyatt Showalter and Grant Rowley.
2017-2018 4-H Council
Executive Council
President Taylor Dieball, V-President Ty Herzog, Sec./Treasurer Connor Furrey, Members at Large Braeden Grasser and Wyatt Showalter.
Council Members
Mallory Beltz, Garrett Sankey, Brianna Bingle, Wyatt Showalter, Grant Rowley, Connor Furrey, Ty Herzog, Braeden Grasser, Taylor Dieball.
Shawna Beltz, Elizabeth Madden, Sally Dieball, Sheri Ellwood, Frannie Miller and Justin Rowley.
4-H Advisor: Arlene Bliss